The customer required a solution for accessing and viewing WFS data from custom ArcGIS Desktop extensions based on the .NET platform.
After evaluation of existing products and technologies, we found neither a suitable WFS library nor an easy way to build a WFS proxy per .NET:
The WFS support provided by the Data Interoperability extension of ArcGIS Desktop has important disadvantages:

The all data of each displayed feature type are always loaded even when a small part of the data is displayed. The loading can take much time.
Data queries are possible only after loading of the all data.
There is no programmatic possibility to add a WFS layer to ArcMap.

An automatic generation of a WFS proxy from the WSDL files and XSD schemas of WFS failed due to specific of WFS (especially great inconsistence between the WFS files and requirements of the wsdl.exe tool).
The found WFS proxies were implemented by using .NET inconsistent programming languages or were not completed.
In order to fulfill the requirements of the customer, SINED has developed the following .NET libraries: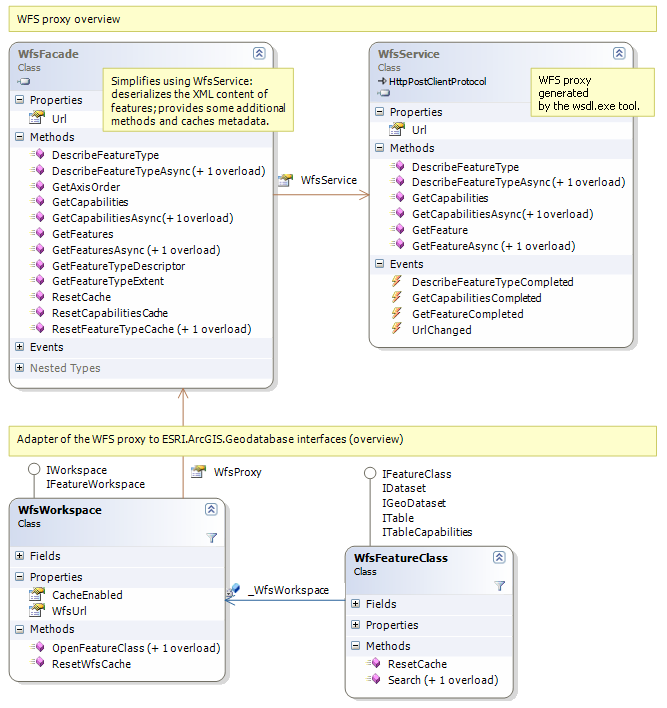 The libraries have been integrated into GIS Framework.

Programming Languages:
C#, XML, XML Schema, WSDL
Technologies and Libraries:
COM
.NET Framework 2.0
WFS 1.1
ArcObjects 9.3/10
Development Tools:
MS Visual Studio 2008
MS Visual Source Safe 6
Altova XMLSpy 2009 Enterprise Edition
Platform:
Windows 2003/2008/7/Vista/XP
.NET Framework 2.0
ArcGIS Desktop 9.3/10